A Hickman

Book of Mormon

  The Book of Mormon was first published in 1830, in an edition of 5000 copies.  Its translator, Joseph Smith, Jr. claimed to have received its contents by revelation from God.  Martin Harris, one of the Three Witnesses, mortgaged his farm to pay for its publication.  Only a few hundred of these rare Mormon books remain.  This book is now in possession of Shauna Solace in California.  She describes how she got it:

  "Our family BOOK OF MORMON, an original 1830 leather bound edition, was bought by Moses Wade in New York and given to his daughter Minerva Emma Wade Hickman. The Wade family, new converts to the Church of Jesus Christ of Latter-day Saints--having been baptized in 1837--had emigrated from Farmersville, New York to Hancock County, Illinois in 1841. Not liking the hardships of frontier life, her two sisters returned to New York. In 1845 the remaining Wade family was driven out of Hancock County by mobs and driven into the city of Nauvoo. Minerva's grandmother, Mary Thayer Bundy, already in frail health, died 4 days later and was buried in Nauvoo. Driven out of Nauvoo in April 1846, the Mormon pioneers made their way to the Rocky Mountains across Iowa Territory from the Mississippi to the Missouri River. Around this time, came a call for volunteers to the Mormon Battalion headed for California. Both Minerva's father, Moses, and her brother, Edward, joined. The Battalion had been gone two months when the pioneers arrived in Council Bluffs. Minerva's mother, Sally Maria Bundy Wade, also frail, died shortly after arriving there in October 1848. Minerva was now alone and bore the task of preparing her mother for burial and digging the grave. She was helped by a new convert, William Adams Hickman, traveling with a wagon train from the east. On May 1st 1849, in Utah, she married that man thus becoming William A. Hickman's 3rd wife in plural marriage. Her daughter, Lerona, would quote in her life story that "my mother said he was the only friend she had and fell in love with him and married him, and come on [came] to the Valley to meet her father and brother...  Coming from a medical family (both her father, Moses Wade and her great-grandfather, Isaac Thayer, were doctors), Minerva joined the Salt Lake City Board of Health in 1851 and learned midwifery--an advocation she would embrace in later life to sustain her family.

  Lerona Minerva Hickman Vanderhoof, 4th of  8 children born to Minerva Wade and William A. Hickman, was given the BOOK sometime in 1916.  Lerona, the first white child born in Shambip, Rush Valley [now Tooele County, Utah, was just 15 when she married her husband, Jesse Lyman Vanderhoof. Together they had 15 children, beginning their family in Montana before permanently returning to Utah where they lived out the rest their lives...

  Lerona passed the BOOK OF MORMON on to her 2nd child, a daughter, Katharine Fidelia Vanderhoof Wells 14 September 1938, just 15 months before her death. My father, Edwin Leonard Wells, only child of Katharine and her 3rd husband, Edwin Montroville Wells, was the next to receive the BOOK. I received it prior to my father's death in December 1976.

  When our parents met and married, my paternal grandparents had lived in San Diego, San Pedro, Harbor City and other neighboring cities in Southern California.

  Our parents divorced when we were 10 years old ... that same year Katharine died in Wilmington, California. My father cared for his aged father until his death in July of 1962. That August my father remarried. They were living in Long Beach, California when the apartment complex they lived in caught fire and the building was severely damaged. Their own apartment was basically destroyed. They lost everything they had, yet, this BOOK OF MORMON survived! The leather is scorched and scarred, the pages are water stained and the condition of the book is rather dilapidated as the spine is coming apart and many of the pages are either loose or missing ... but by some miracle it did survive.

The book discussed on this page belonged to Lerona Minerva Hickman Vanderhoof, a daughter of  William Adams Hickman.

The inscriptions on the front cover:

One of the 1st books of Mormon published.

Baught [sic] by Moses Wade in N.Y.

Braught [sic] to Utah 1849 by his daughter

Minerva Wade Hickman, R.T.D. No. 9, Box 81

Ogden, Utah. She is now in her 88th

year and sends greetings with the book.

Born 1828 - died 1919.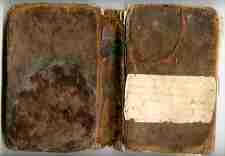 Click
here
to read the inscription.                      




Click
here
for a larger view of both pages.       
The inscription on front inside cover, in Lerona's handwriting, reads:

"My mother Minerva Wade Hickman said she was born in 1828 . . . her niece said 1830. Farmersville, Cataragus (sic) County, New York. --- Lerona M. Vanderhoof, Snowville, Box Elder Co., Utah.  March 23 28 1921.

In Katharine's handwriting below it reads: "Given to me by my mother Lerona Minerva Hickman Vanderhoof September 14, 1938. -- Katharine Fidelia Vanderhoof-Wells born Montana, 1873 - Wilmington, Calif"

The first part of the book is missing, but it is clearly an 1830 Palmyra First Edition of the
Book of Mormon
, as you will later have the opportunity to compare it to one.  The first page of text in this book begins with I Nephi 14:26.  Pagination begins with 35-36; p.53-54; p.59-60; then sporadically missing pages after p.85.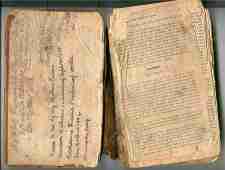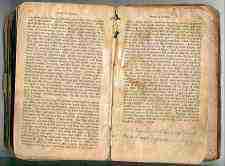 The book was likely in better condition when Lerona owned it, but the pages beyond this point were probably missing.  The next to last page is shown above, where she wrote "Ben Read and Reared and Read over again and again"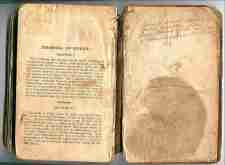 This is the last page of the book, which is missing the pages beyond Moroni 2:3.  The inside back cover records the presentation of the book to its present owner.

To compare this to an 1830 edition of the
Book of Mormon
, click
here
.
To contact Shauna Solace, click
here
.
For more pictures of Lerona and her family, click
here
.
To read Lerona's autobiography, click
here
. 
       For an interview of "Mrs. Shaw", click
here
.
To read the Ogden
Standard-Examiner
and other Utah newspapers, click
here
.
To return to the Hickman Family index page, click
here
.
.

  There are several "bookmark" inserts inside the BOOK which remained intact. These tell their own story and identify various events in our family's history. These include:

1
) a small scrap piece of tight woven cream material with small light brown circles equally spaced throughout ... each circle being smaller than a dime. Inside each circle is a smaller dark brown circle, 1/4 of it being solid and the remaining 3/4 broken.  
Click here to see it.
To me, the circles resemble stuffed olives!  Minerva was an excellent tailor and sewed everything by hand so this could have been a scrap of her own material or that of a customer. Many years later, she would buy one of the first sewing machines in her town.
2
) another 'bookmark' (
click here to see it
) appears to be the name of a local newspaper,
THE OGDEN EXAMINER
.  After Bill's excommunication, his plural marriages were no longer recognized and the polygamous family relationship ended in 1867. Minerva and her family moved to North Ogden to live with her brother, Edward Wade, who would later build her a home across the road from his own where she raised her family as a single parent. Of Bill, she would say "he was the only man I ever loved."
3
) on the verso (
click here
) is an incomplete picture of the Follies--a BIG thing in those days but now as faded a memory as the paper it's printed on;
4
) another piece advertises the Ogden Savings Bank and is neatly torn to display the entire advertisement ... perhaps a handy reference (
click here to see it
);
5
) the "Floriculture" piece (
click here
) appears to be a newsletter and is dated July 1896.  The verso (
click here
) contains the incomplete poem: "Little baby darling" by ...Byron Ray. At this time, Minerva is 66 and her family is grown. Lerona at 40 would bear her last child, Joseph Frances, in 1897 only to lose him at age 21. That same year, 1918, Lerona would also lose her mother. Katharine, her first marriage to Silas Jerome Bond behind her, is, at 23, a new bride to Albert Henry Biddle. It would be another 21 years before my father would enter the picture;
6
) the complete article (
click here
) about the 3rd Annual Convention of the Priesthood of Weber [Utah] Stake [1920] is perhaps the largest 'bookmark'. Lerona and Jesse were up in years, she being 64 and he, 73. He might have attended that conference, or been unable to attend so the clipping was saved. Jessie died 5 years later, in the fall of 1925;  On the verso of this piece is listed several happenings in Idaho. Since my maternal lines came from Utah and Idaho, I found these pieces especially interesting.  One partial article in particular reads: " The beet industry is rapidly growing in this section and it is expected that the 1921 acreage will nearly double that of last year".  This makes the year probably 1920;
7
) another article (
click here
) titled: "Retiring President will resume practice of law he dropped years ago" pictures U.S. President Woodrow Wilson (D) [1913-1921] and suggests he would resume his law practice after he leaves office;
8
) on the verso (
click here
) is an article dated March 4th which reads: "President Wilson, at the Capitol today, announced that he would not sign the immigration regulation bill and that the measure would die by a 'pocket veto'. The President signed the sundry civil appropriation bill and the amended Langley bill, providing for the construction and maintenance of hospitals for disabled former servicemen." This dates the event at March 4th,1920 -- an election year!  To the left of this article is a large portrait of Calvin Coolidge [1923-1929].  The only part of the heading that's visible is "PRESIDENT". Below that is a portrait framed within a large circle but showing only a part of the left side of his face ... his hair line, his ear and a tiny section of eye and eyebrow.  Warren G. Harding (R) [1921-1923] would win this election and his Vice-President, Calvin Coolidge (R), would complete his term after the President dies in office 2 August 1923. Coolidge would then go on to serve his own term in office.
  By 1920, Lerona has been in possession of the BOOK OF MORMON for four years. Katharine, with two marriages behind her, was no longer living in Utah, having married my grandfather in 1916. They are living in Washington State where my father is born in August 1917. According to the 1920 census, they were still in Washington, however, sometime in that same year they moved to San Diego to care for his aging father, Homer Leonard Wells, who died in February 1924. By the time my parents met in the late 1930's, the family had permanently settled in Southern California. Katharine received the BOOK in September of 1938, just 15 months before Lerona's death.

  With our parents union, my sister and I became first generation Californians.

--Shauna Solace

Marriott Library,

University of Utah

Hope Hilton Photographs,

P0617, Box 1, fd 3.

Moses Wade, the book's original owner.