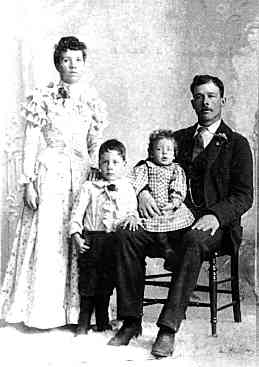 The grandchildren of William Adams Hickman eventually grew up and had families of their own.  This is a picture of Samuel and Sarah's son James Harrison Butcher with his wife Ida Olivia Olson and sons Albert and Oliver, taken in 1895.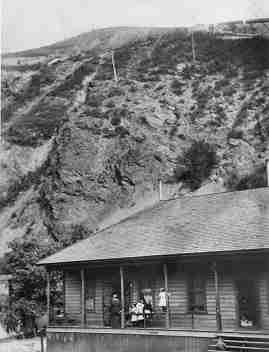 They lived in a large home which was located at about the site where the Bingham Hospital was later built.  Its address was 279 Main Street, Bingham Canyon.  In this picture, Sarah Catherine Butcher is now a grandmother, standing with her back to the camera.  Ida Olivia and her son Albert are also in the picture.  Sarah Catherine and Ida had a close relationship, evident from a series of letters they exchanged.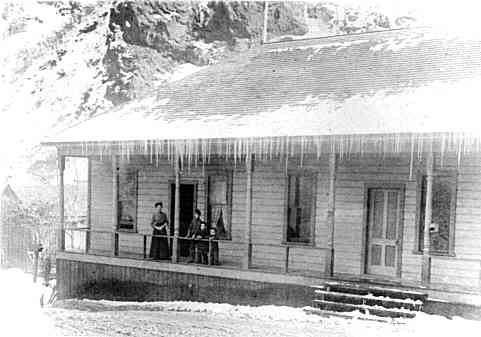 Here's a view of the home in winter in 1905.  Those on the porch have been identified as Ida Olivia Olson Butcher, and her children Oliver D., Ruby Isabelle, Chauncy E., and Fairal E.S. Butcher.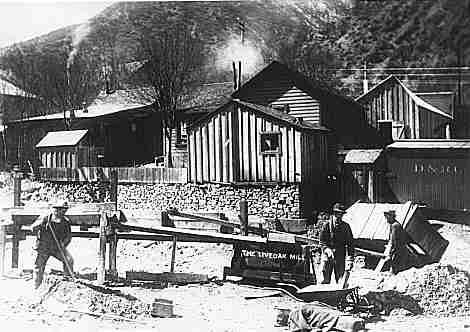 Running a jig to separate minerals in 1899. James Harrison Butcher is with the wheelbarrow, Ray Kenner with the shovel, Earl Simmons is at the jig.  This was known as the Live Oak Mill, and similar small operations could be found along the creek from one end of the canyon to the other.  Sand and gravel would be processed, then dumped back into the creek to be picked up and processed by the next jig.

Being a Hickman, James had a particular love for horses.  This is a picture of him at the barn in Bingham City.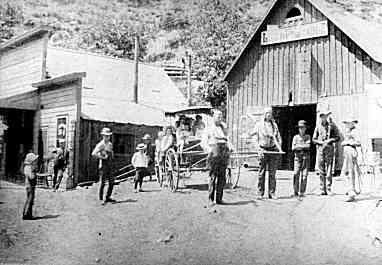 Spanking Span of Whites.  "Ellis Maxfield and Harrison Butcher posed for their photographer Sunday afternoon while harnessed to a surrey of the Star Livery which was crowded with women and children.  Ellis made a splendid pole worker which was afterwards proven by the lively ride the occupants of the rig were given down the canyon."  This article was from the newspaper--too old to copy.  My dad James Harrison is on the right - 1904 -  The children or people I do not know.  This picture was taken by Freeman Gulch; started by Stable.                     --Fairal S. Butcher

Sometimes livestock had to be improvised.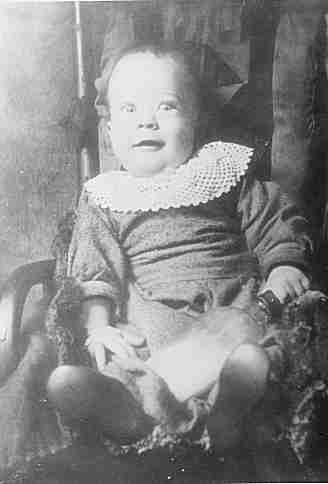 This is a picture of James and Ida's son Fairal.  Note that Fairal's baby bottle was converted from a whisky bottle.  Either that or his parents knew how to keep him quiet.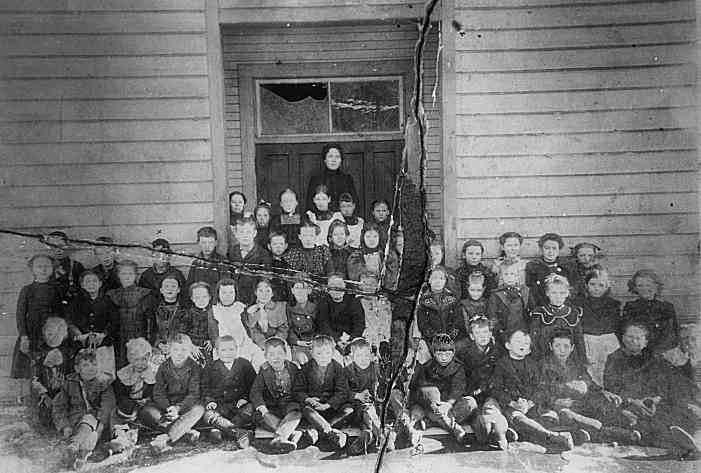 In a town with plenty of rocks you could expect the school to have broken windows.  This picture was taken in 1900; the teacher is Nellie McEvoy.  Albert and Oliver Butcher are identified with an "x".  They and the others are Bingham's sons and daughters.  It's likely Albert and Oliver were the only ones whose grandfather was there when the first claim was staked.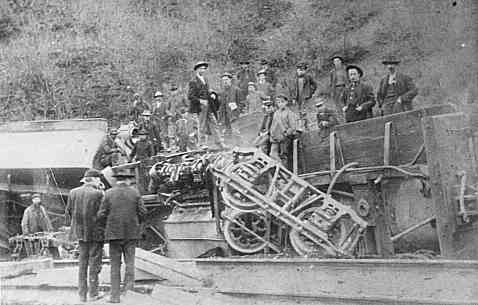 Interesting things were happening in Bingham all the time.  This is a 1913 train wreck.  One of Fairal's brothers is fourth from the right (he didn't say which brother).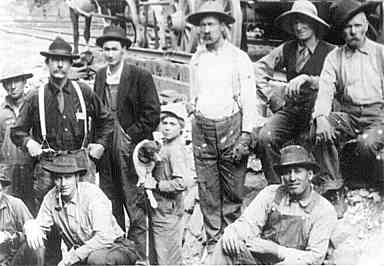 One of the Butcher children holding his dog.  One clue that Bingham was a cosmopolitan city with people from many nations is the variety of hats and clothing the men in this scene are wearing. 

Joseph D. Butcher out for a ride.  Sometimes livestock had to be improvised.

To learn more about the Hickmans as miners at Bingham, click
here
.
To return to the Hickman Family index page, click
here
.
.

The Butcher Family:  The Next Generation at Bingham.

These pictures were given to Marlene Butcher Gates by Fairal E.S. Butcher.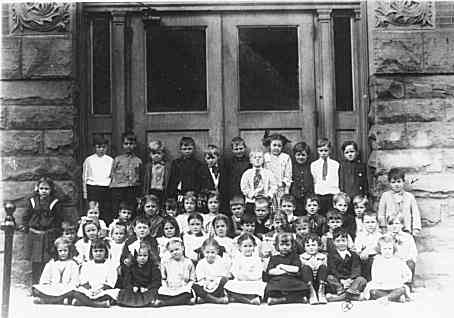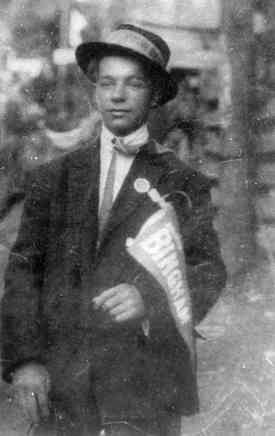 The Butcher family continued to live in Bingham Canyon through the 1940s.  This is a picture of Fred Butcher holding a banner from Bingham High School.

Fairal attended Bingham Elementary School in 1913.  This is a picture of him at age 7 with his class.  He is second from right on the front row.